Simulation Bird Feathers Interactive Cat Toy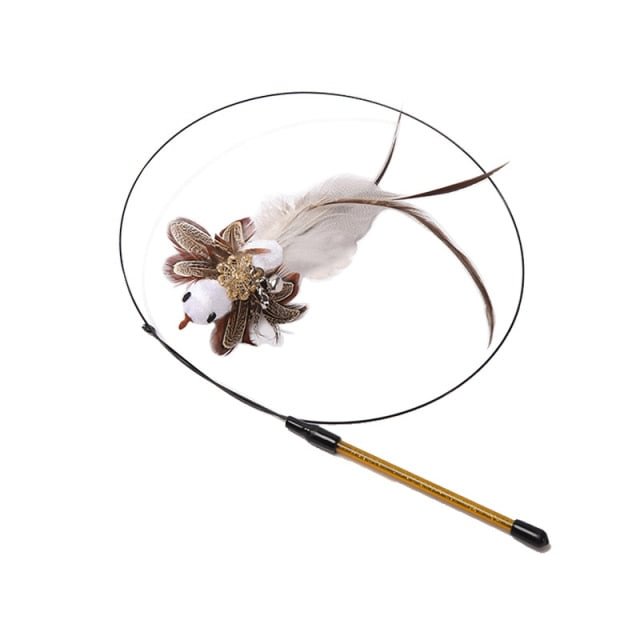 Simulation Bird Feathers Interactive Cat Toy
Keep your cat active and entertained with our simulated bird feather interactive cat toy. Manipulate this fun toy to make your cat flap and flutter as happily as you do.
🐈 Our cat teasing toys are perfect for your kitty. Mimics nature's instinct to hunt prey. Encourage your pet to do more exercise. 
It also improves agility and immunity and reduces obesity. It's also a great way to interact and spend time with them.
 
🐈 Our cat toys are dedicated to strengthening the bond between you and your cat and playing for hours together.
💠 Handheld model: You can always hold the cat stick to interact with your cat.
💠 Suction cup type: You can easily fix it on the floor or wall. Your cat will play with it, or you can separate the stick from the base, hold it and play with the cat.
🐈 All accessories are made of safe, non-toxic and environmentally friendly materials. The wand is flexible, not easy to break, and lasts longer and is more durable. Safe and healthy for cats, you and your family.
🐈 Lightweight and portable, easy to hang and change feathers. It is the ideal interactive toy for your beloved furry friend.
Specification:

Type: Interactive teaser toy
Material: steel wire, plastic, plush, feather
Size: handle 15cm, wire length 66cm
Weight: about 20g
Package includes: 1x Sim Bird Interactive Cat Toy