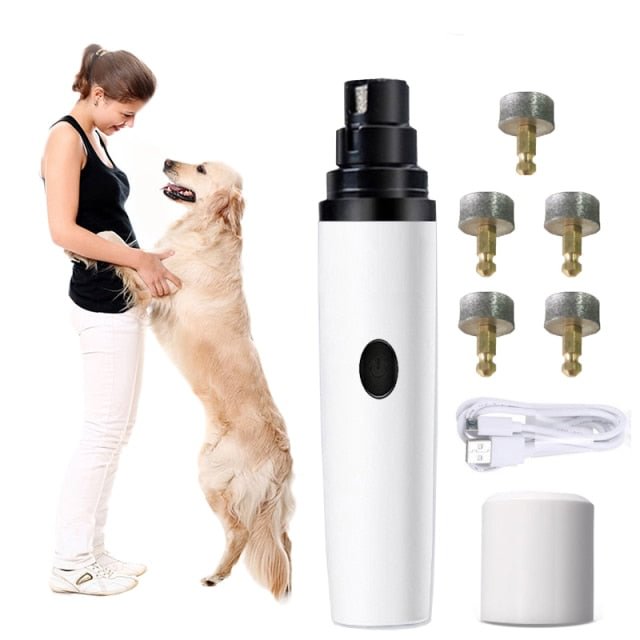 SENSITIVE PETS WILL BE HAPPY WITH THIS NAIL GRINDER!
It has never been easier to cut dog or cat nails without causing unpleasant pain or bleeding in your favorite pets. This pet nail clipper was created with innovative anti-noise nail clipper technology. This helps your pet not get excited or scared when cutting nails and ensures they stay relaxed and comfortable. Save money the hassle of having to drag your pets to the groomers, do it yourself from the comfort of your own home, your pets and your wallet will both thank you!


SAFE & PAINLESS!
Our Nail Nipper is perfect for small, medium, and large dogs and cats. With our innovative security cover, you can choose a suitable port size to grind according to the pet size. The entire process is painless, and only takes seconds!
USB RECHARGEABLE & PORTABLE!
Pet nail grinder USB, The painless pet's nail grinder is rechargeable and has an indicator light on the bottom that turns on when charging. The lightweight and ergonomic body design also make it easier to handle in your right or left hand.
STEP BY STEP GUIDE:
Step 1: Based on the size and nail shape of your pet, choose the proper nail trimmer opening. The bigger the nail, the bigger the opening you can use. Refer to our sizing chart below.
Step 2: Let your pet sniff the trimmer once while it's off, then again while it's on. Giving them a treat while doing this helps them associate positive emotions while around the trimmer.
Step 3: Once their curiosity has subsided, gently pick your pet's paws up and begin trimming. The Electric Pet Nail Grinder is equipped with low vibration and a quiet yet powerful motor that makes nail care a hassle-free and comfortable experience for you and your beloved pet.
Step 4: Once all the trimming is complete, gently clean the trimmer's wheel with a cloth to remove any excess nail powder.
PRODUCT SPECIFICATIONS:
Charge time:

 

2 hours
Run time:

 

Up to 4 hours
Charging mode:

 

USB charging
Battery:

 

Built-in battery
Package includes: 1 x Nail Nipper, 1 x USB Charging Cable, 1 x User Manual