DIY TV PC Dream Screen Durable USB LED Strip HDTV Computer Monitor Backlight Addressable LED Strip Connectors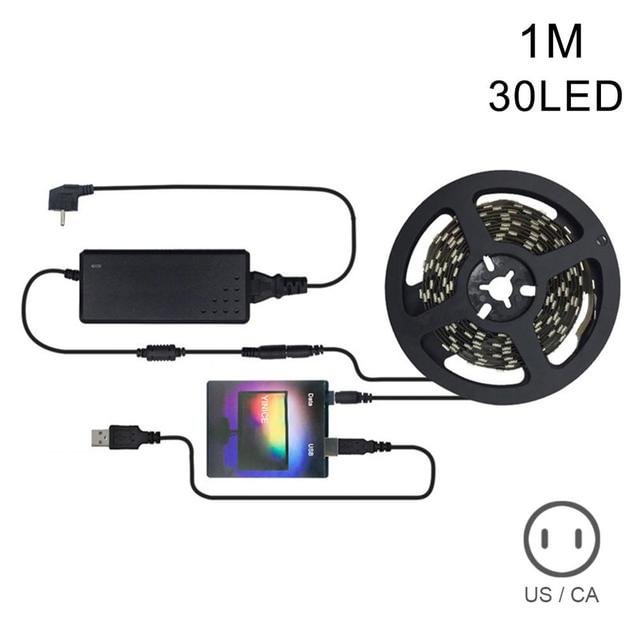 DIY TV PC Dream Screen Durable USB LED Strip HDTV Computer Monitor Backlight Addressable LED Strip Connectors
DIY TV PC Dream Screen Durable USB LED Strip HDTV Computer Monitor Backlight Addressable LED Strip Connectors
Features:
1. Protect your eye: Watching TV in the dark causes the eyes to constantly adjust between a bright screen and dark surrounding area. These tv backlight elevates the surrounding light, reducing the eye strain caused by differences in picture brightness, creates a beautiful bias lighting when watching TV.
2. Music Mode: Spectrum with light and colors adjusting automatically base on the ambient sound, LED lights sync with the music. The strip light suits any type of music, including slow, relaxing tunes and dance music.
3. Safe to Use: Working voltage of 5V and equipped with short circuit protection and memory function. Waterproof, extremely low-heat, and safe.
4. Easy installation: LED strip light can be cut with scissors on the cut marks (white lines) to fit the desired size of your TV. Every step is very easy, just stick the strip lights on the smooth surface and connect according to the instructions. Our LED strips have stronger adhesives than other LED strip. They stick well to TVs, PC, cabinets, and walls.
5. Sufficient brightness to ensure a perfect backlight experience during the day.

Notice:
1. Actual color may be slightly different from the image due to different monitor and light effect. Please allow 1-3cm deviation due to manual measurement.
2. Objects may have Logo, if you want to know, please contact us. If you mind, please do not bid.

Specification:
Type: LED Light Strip Kit
Length:1/2/3/4/5meters optional
LED quantity: 30LEDs/meter, 60LEDs/meter optional
Supported systems: for Windows, for Mac Os, for Linux
Input voltage: 5V
Power source: USB
Include:
1 x LED Strip
1 x controller
1 x USB Cable
1 x Power Adapter

Installation method:
1. Please read the instructions before you mount the light, you can also create your own installation method according to your own preferences.
2. Clean the dust, ensure the back of your TV is free from dust before installation to avoid falling off.
3. Remembers to connect all things done, and test whether it is light up, then peel off the tape and install on your TV or somewhere you like, then plug the USB and use the remote to control.
1 x LED Strip
1 x controller
1 x USB Cable
1 x Power Adapter